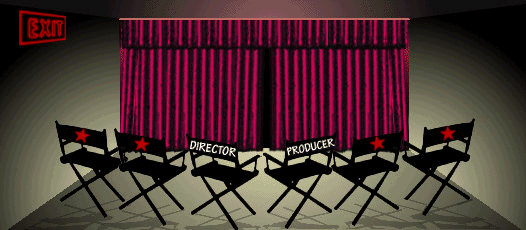 Meeting Room
Guest Book: Responses to Question "How Has a Movie Affected Your Life?"
Part I (March, 1997)
Part II (August, 1997)
Part III (June 1998)
Part IV (April, 1999)
Part V (July, 2000)
Part VI (September, 2001)
Part VII (February, 2003)
To particapate, visit the Registration Booth
The Film Scouts Interactive Screenplay Projects
We wrote the first scene, and visitors wrote the rest...
Boulevard de la Croisette (Cannes Film Festival 1997)
Fast Fiction (New York Film Festival 1997)
Park City Slickers (Sundance Film Festival 1998)
Copyright 1994-2008 Film Scouts LLC
Created, produced, and published by Film Scouts LLC
Film Scouts® is a registered trademark of Film Scouts LLC
All rights reserved.

Suggestions? Comments? Fill out our Feedback Form.