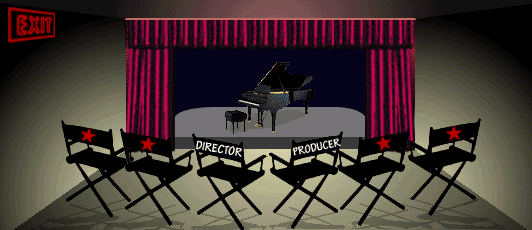 The Film Scouts Multimedia Archive

(October 1996) In honor of the World Champion New York Yankees, Jerry (the usher) has made two special films of their Ticker Tape Parade down New York's Canyon of Heroes:
The 39 Yankees (1.5mb)
Cops! Cops! Cops! (1.2mb)
(July 1996) Film Scouts Special Tribute (Music Department): Jim Morrison (on the 25th anniversary of his death, July 3, 1971)
Fall season reports from Paris, Special Exclusive Film Scouts Videos taken at and around Jim Morrison's grave on July 3, 1996:
Mourners were heard saying that they "Can't Party" (0.5mb)
"Tears for Jim" (2.0mb)
For those of you with more of an interest in classical music, you might want to know that Père Lachaise is also home to
"Some Other Musician's Grave" (1.2mb)
More Jim Morrison Videos to come...

Lisa Nesselson, writing from Paris, covers the story exhaustively in a 10-part series:
July 3, 1996 at Père Lachaise cemetery
Rainer Moddemann: Devoted Non-Profit Editor and Publisher
Michelle Campbell: 5 Lively Years on a Dead Beat
A Spelling Tutorial
CD versus Vinyl
Showing Oliver the Door
Iain Grant Boyack: Philosopher & Doors Aficianado
Jim's Last Picture Show
Patricia or Pamela?
Who Is this Woman Anyway?
(Jim Morrison died with a movie stub in his pocket)
Call Multimedia Room Usher (for theater history and other information)

Back to Film Scouts Media Lab
Copyright 1994-2008 Film Scouts LLC
Created, produced, and published by Film Scouts LLC
Film Scouts® is a registered trademark of Film Scouts LLC
All rights reserved.

Suggestions? Comments? Fill out our Feedback Form.