Mars Attacks!: Travel to Mars: Make Your Reservation Now!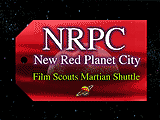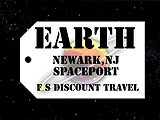 "Mars Attacks!" tells only one side of the story!
We'd like to invite you to visit Mars (via the Film Scouts Space Shuttle)
and see for yourself what the Martian way is all about.
Fill in the request form with your preferred departure year,
and we'll put you on the reservation list!
Reservations will be granted on a first-come-first-served basis. You will be notified of your reservation status once trial service has begun (but don't expect a prompt reply - please allow 30 to 60 years). Reservations and/or reservation priority may be transferred to descendants or legal heirs only. Once granted reservation status, you will not need to periodically reconfirm; your name will remain on the list until such time as we have been informed that you or your heirs have decided to cancel your request. Special black-out years and other restrictions may apply. Baggage allowances will be strictly enforced. No pet, animal, or other living thing may be transported. The use of personal computers, televisions, radios, CD players, and other electronic devices may be restricted for certain periods of the voyage. Not all dietary special requests will be accomodated. Persons appearing in poor health may be required to undergo examination by a physician before travel is permitted. Accomodation cannot be guaranteed and no compensation will be granted for denied boarding.



Back to "Mars Attacks!"

Copyright 1994-2008 Film Scouts LLC
Created, produced, and published by Film Scouts LLC
Film Scouts® is a registered trademark of Film Scouts LLC
All rights reserved.

Suggestions? Comments? Fill out our Feedback Form.